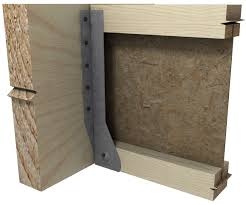 For fixing I-Joists to the face of timber beams.
Uses
Allows for a strong and squeak free connection of I-Joists to timber beam supports.
Features
The use of Pryda's Face Mounted I-Joist full depth hangers provides torsional (aka rotational) restraint to the I-Joist to ensure the correct structural performance.
Ideally suited to support modern timber I-Joists. LF type hangers are specifically designed for use with proprietary I-Joists.
There is provision for a screw through the hanger into the bottom of the bottom flange to minimize squeaking. A hole towards the bottom of each side flange is also available for fixing into bottom flange to further reduce the effect of squeaking.
Application
For application and design capacity information, please refer to the Pryda Australia website.
I-Joist Hangers – Face Mounted
| Product Code | Size |
| --- | --- |
| LF235/90 | 90 x 235mm |