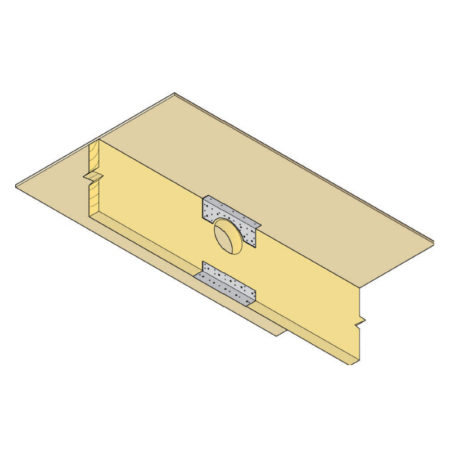 Pryda Stren Joist re-instates integrity of penetrated joists.
Uses
The Pryda Stren-Joist has been designed to allow holes to be cut in floor joists to enable pipes, wiring or other services to be passed through the joist. The fitting of a Pryda Stren Joist re-instates the integrity of the penetrated joist.
Features
Quick and Easy to install
Fixing option of either nailing or screwing.
Note—Fixing to the flooring must be done with screws provided. All other holes can use either nails or screws
Can be retro-fitted. There is no requirement to remove services to fit the Stren-Joist
Comes in two sizes/depths, 45mm & 90mm, designed to fit 140—290mm joists
Allows an easy solution to fix penetrations in floor joists made by other trades
Timber grade can be SG8 or better
The edge of the penetration shall be at least the joist depth from the end of the joist
All components required are included
Application
The Pryda Stren-Joist is intended to re-instate the structural integrity of joist that has suffered service holes after erection. The hole can be ade in any position along the span of the joist provided that the hole edge is not closer than one joist depth from the end supports of the joist.
Pryda Stren Joist
| Product Code | Size |
| --- | --- |
| NPSJ | |
| NPSJD | |