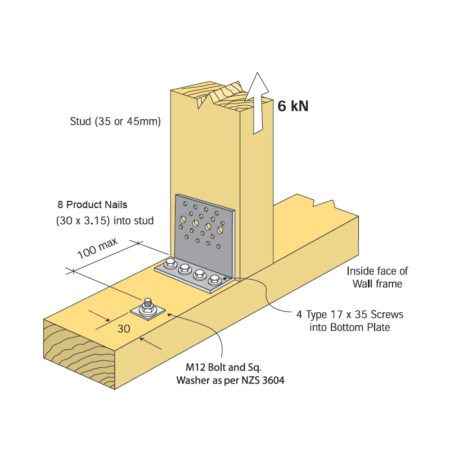 Easily retrofitted, 6kN or 12kN Capacity fixing (stud-to-plate) for sheet-braced wall panels
Uses
Fixing sheet braced wall panels to timber floors and concrete slabs (via bottom plate).
Features
Pryda's easy to retrofit, Sheet Brace Anchor kit comes with everything you need to achieve either a 6kN or 12kN capacity Wall Stud to bottom plate connection.
Able to be retrofitted if external wall lining / cladding already installed
Alternative to 6 or 12 kN Sheet Brace Strap fixing
Includes fasteners, simplifying installation
Installation
Locate fixing hard against face of stud and roughly central about stud width. Fix 4 screws down into bottom plate through the four holes in the narrow flange. Nail with 8 nails supplied into stud (spread nails evenly over nailing area – not all nail holes will be filled). Note: A 6kN fixing of bottom plate to concrete (eg. One M12 bolt) is required within 100mm of the 6kN stud to plate fixing.
Use 2 connectors, one each face of stud, where 12kN fixing is required (e.g. Boundary fire wall – single storey garage).
Pryda Sheet Brace Anchor
Product Code
Size
SBA
85mm high x 30mm deep x 80mm wide
Nails 30 x 3.15
Screws 12g x 35mm hex head