Better by Design. Safer, Faster, Smarter, Easier.
This is the commitment we make to our Pryda Frame and Truss Fabricators. Pryda is committed to improving the productivity and profitability of our customers. How? Everything we do, the improvements we make, the solutions we are offering are by design, and as a result lifts the safety, speed, and ease of traditional build methods, which are unique to Pryda.
Safer
Keep our people, our customers and their customers safe
Faster
Live and breathe productivity, efficiency and simplicity
Smarter
Challenge the status quo and identify new ways to solve common challenges

Easier
Make good people great
Why Pryda?
Safety is the focus from the start of any of our initiatives. From the safety-focused new

Hip End Roller

to solutions keeping your builder safer onsite with SpeedTrussTM, this focus provides Pryda partners with an extra set of hands to keep your team, and your customers safer on the job.
We are lifting the bar on productivity. There are some exciting software developments soon to be released in the market, so watch this space.
Our point of difference solutions are all unique to Pryda, via exclusive distribution agreements or patent protection.
Times are changing and quickly, and so is your workforce, and that of your customers. Making the process easier to design, manufacture, and install onsite is at the core of all the work we are doing.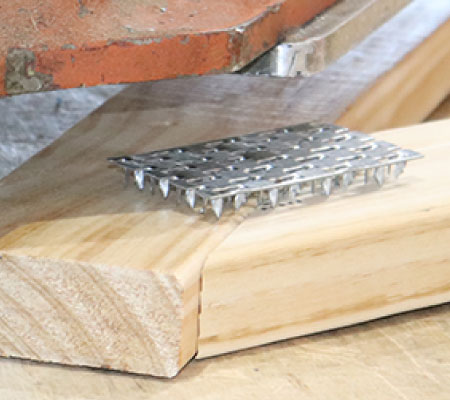 Time for a change?
Our team would be happy to talk to you about our current offers and discuss how our unique solutions could add value to your business.
Fabricators
Hip End Roller
The Hip End Roller's leading edge safety system ensures optimum care for your staff whilst producing trusses in the fastest way. Watch the video below to see how this system can benefit your business.
Industry Groups
Pryda is proud to be associated with these industry groups, and we are focusing on growing the market for Frame and Truss, and Timber Construction.
New starter setup
Need to get a new starter up and running with Pryda Build software? Click the link below to get them setup today.
Better by Design
Sign up to Pryda's Frame and Truss focussed monthly newsletter, Better by Design. Aimed at owners, decision makers and key stakeholders within frame and truss manufacturers, we share market information, industry insights, product information, and other content focussed on productivity and profitability for your operation.Sign Up Here