A fast, cost effective way to construct a complete working platform in hours.
FLOOR TRUSS SYSTEMS
Pryda Floor Truss Systems offer many benefits to the designer, the builder and the building owner in providing a reliable high performance system for both domestic and commercial construction.
The Pryda fully engineered open-web timber floor truss systems with timber webs (Pryda Longreach) or metal webs (Pryda Span) have many advantages that result in a lower net installed cost compared to other floor systems that are available.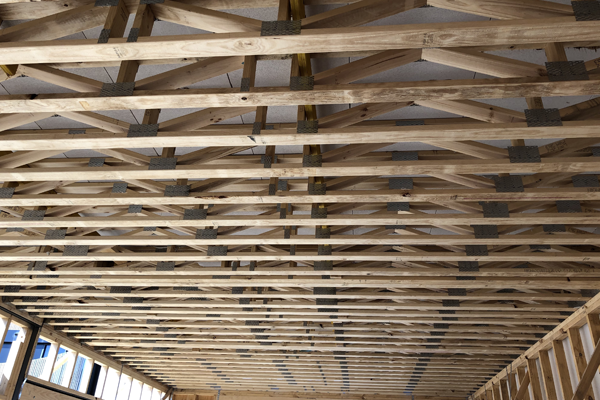 Pryda Longreach Trusses
Longreach trusses are a premium performance product using nail-plated, all-timber trusses of any depth, but typically 300mm deep for residential floors and 400mm deep for commercial floors.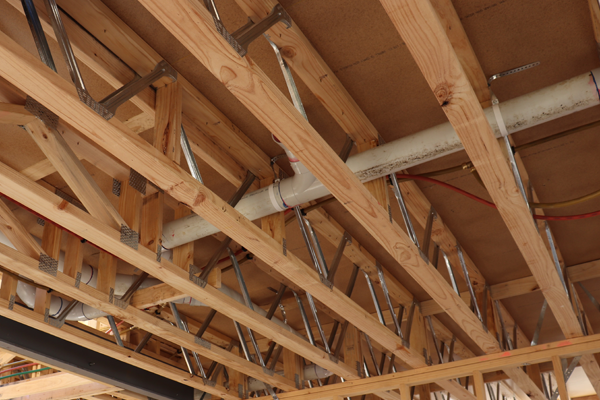 Pryda Span Trusses
Pryda Span trusses have metal diagonal webs for light weight and economy. They are ideal for shallower trusses where there is more clearance room to accommodate the plumbing than with timber webs and for trusses where the chord design has some reserve capacity, as is often the case.
In some instances there may be a material cost increase by using Pryda floor trusses over alternative flooring systems. However when it comes to installing the product, Pryda floor trusses can provide significant labour savings.
In addition, floor trusses have some considerable design advantages that could result in reducing the need for a large amount of costly structural support construction. E.g. Long spans may reduce the need for internal load bearing walls.
Pryda floor trusses are custom designed for the job by licensed Pryda truss plants. The design incorporates required stiffness, depth, timber grades and span to achieve optimal performance, cost and installation efficiency.
PRYDA FLOOR CASSETTES
Using Pryda's Floor Cassette system is a fast and cost effective way to increase productivity.
Suitable for subfloor or upper storey applications, timber floor cassettes combine all the elements of a floor system including trusses, strongbacks and flooring material, into a large but manageable panel which can be lifted in place to form a complete working platform in a matter of hours.
IMPROVED QUALITY
Cassettes are pre-fabricated off-site in a factory controlled environment enabling a higher degree of consistency and quality assurance to be achieved.

FLEXIBLE DESIGNS
Cassettes are fully detailed and engineered by Pryda manufacturers to suit your specific project. Pryda Span or Long Reach floor trusses can be manufactured up to 10m in length with designs able to take into consideration factors such as positioning of services, wet areas, balcony set downs and co-ordination with the supporting structure.

LIGHTWEIGHT AND ROCK SOLID
The Pryda floor trusses within the cassettes will be designed to stringent dynamic performance criteria to eliminate 'liveliness' in a floor, which can lead to bounce. This means timber cassette offers all the benefits of reinforced concrete but at a much lighter weight.

FAST ON-SITE INSTALLATION
Once delivered to site, pre-installed lifting devices and mobile cranes will be used to lift the cassettes into position to create a complete working platform in a matter of hours.
FEWER DELAYS WAITING FOR TRADES & DELIVERIES
As cassettes form a complete working platform incorporating all ancillaries, incomplete deliveries become a thing of the past and there is minimal work required for follow on trades.

MINIMISES WASTE
Flooring materials and other ancillary products are optimised during design and installed off-site doing away with on-site cutting, waste and the risk of materials going missing.

REDUCES OH&S RISKS
Floor cassettes can be installed on upper stories from below and provide a working platform upon installation, minimising risks associated with working at heights.

SUIT A VARIETY OF APPLICATIONS
Floor cassettes are suitable for upper storey and ground floor applications in detached housing, multi-unit and light commercial developments.
Resources