A Better Way to Build a Roof
Save up to half a day on your next roof job
SAFER
Reduced time working at heights.
FASTER
Work faster with preinstalled Hinge-Out and Easy-Fix components.
SMARTER
Pryda SpeedTruss™ is a smarter way to install a roof – place, swing, screw and everything just fits into place.
EASIER
Stand each truss and screw it down – job done.
MORE SMART THINKING FROM THE COMPANY THAT MAKES BUILDER PRODUCTIVITY ITS BUSINESS
Finding better ways to design and build is the Pryda way. For over 50 years, Pryda has delivered engineered productivity solutions to help builders do their best work. The Pryda Truss Installation System (Pryda SpeedTruss™) is a new approach to roof truss installation, enabling builders to work faster, easier, safer, and altogether smarter.
HINGE-OUT
Pryda's patented Hinge-Out system hinges the jack truss off the girder truss, as a result the girder truss is immediately stabilised as you work. Each jack truss is fitted with Pryda's truncated standard truss stop (TS Stop) for easy and accurate installation of a truncated standard truss.
EASY-FIX
Nothing beats a simple connection. Pryda's Easy-Fix pre-installed 150mm or 200mm screw configuration makes short work of permanently connecting each truss to the wall frame top plate. Used with Pryda Build truss software, builders have a total system to simplify roof truss installation.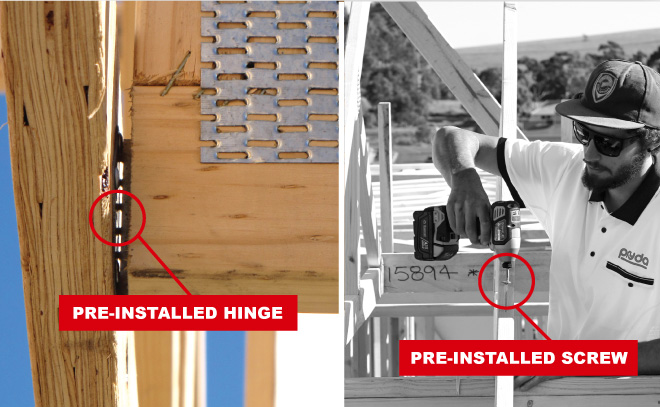 PRYDA SPEEDTRUSS™ TICKS ALL THE BOXES
Don't take our word for it
Here's what builders are saying about Pryda SpeedTruss™
SpeedTruss™ is nice and safe – as you're up the ladder once, not double handling everything.
The hinge system is sturdy, especially when you're getting started. It's easy to walk through, too.
No more split bottom chords.
Never thought I'd see the day when I didn't have to spend half of it doing tie-downs.
The whole system is almost error-free – just swing it out, screw it down, and it's all done.
TIME YOU GOT STARTED
Smarten up roof truss installation, with Pryda SpeedTruss™
CALL A PRYDA EXPERT NOW
New Zealand – 0800 882244