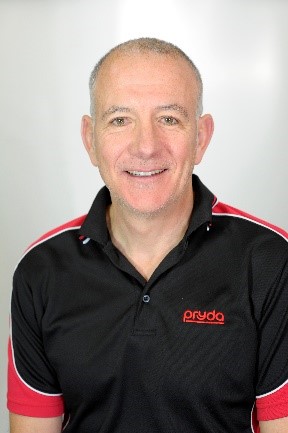 Born and bred in Newcastle, New South Wales, Steve is one Australian who calls New Zealand home – well, almost. Having moved to New Zealand with his Kiwi wife and their two children in 2011, Steve's home base on Auckland's North Shore, handily located to Pryda's Albany office.
Degree qualified in construction management, Steve joined Pryda in January 2019 after 2.5 years with sister company Ramsetreid, where he was account managing pre-cast concrete and structural steel solutions. While different building materials, there are a lot of similarities in the way the businesses need to run in a dynamic and largely customised marketplace.
Time spent with local fabricators has provided Steve with a picture of challenges. He says ready access to good information ensures fabricators understand the anatomy of their production and make sound business decisions based on measurable outcomes.
"Pryda's Production Manager software is packed with potential 'gold' to support productivity and profitability, but it's often under utilised. Access to real time reporting and 'one source of truth' rather than anecdotal floor feedback, paired with post-production analysis, Production Manager really is a must have tool for any owner or manager wanting to understand throughputs".
Before moving to New Zealand, Steve spent a chunk of his career working for specialist subcontractors to design and deliver building maintenance units – think moveable platforms used by window cleaners and maintenance people that trace the exterior of office towers.
Ever keen to expand his horizons, Steve's peers and clients – in fact anyone within stick poking distance – will be interested to learn that he recently completed a post graduate qualification in brewing. That's right – a qualified brewer is in our midst.
Steve White
Sales Manager – New Zealand
M: 021 790 951
E: swhite@prydaanz.com
Posted on January 11, 2021