Eighteen years with Pryda, structural engineer Ian Hayward has witnessed the progressive digitisation of frame and truss design.
The newly appointed engineering manager for Australia and New Zealand now spends more time with his head in Pryda Build software, developing briefs and tweaking software functions to help designers do their jobs more efficiently.
Nevertheless, his principal focus involves plenty of visits to the design departments of his clients, keeping sawdust on his shoes.
Software these days does much of the design work, he says, but face-to-face consulting remains essential to helping builders and fabricators design more efficiently and remain compliant.
"Nothing gets easier, especially in the current environment, where compliance issuers face more scrutiny and insurers are getting tougher," says Ian, who believes the development is a function of recent high-profile building disasters, such as the fire that broke out in the 24-storey Grenfell Tower block of flats in North Kensington, West London, which killed 72 people.
"Compliance is more complicated – everyone in our industry faces more questions, growing insurance costs, and in some cases a narrower range of cover," he says.
Despite the climate of heightened risk aversion, Ian says Pryda's design firepower provides customers with a safe pair of hands. The company's timber design team, alone, contains 100-plus years of experience – clout that often sees its designers invited through the doors of architects and engineers looking for expert guidance to navigate tricky builds.
Prodded for his views on Pryda's distinguishing essence, Ian quickly identifies the passion for innovation demonstrated by his fellow workers. "It's a thrill to see," he says. "And it's also evident in the way we partner clients – we're not just suppliers. Our style of interaction gives clients the confidence that they're part of the Pryda family – they'll never be left on their own."
Outside work, Ian lives with his wife Jo-Anne, son Cameron, and dog Ginger, on a block of land in Valentine, a suburb of the City of Lake Macquarie in New South Wales, 20 kilometres from Newcastle's central business district.
Ian Hayward
Engineering Manager ANZ
+61 439 300 619
ihayward@prydaanz.com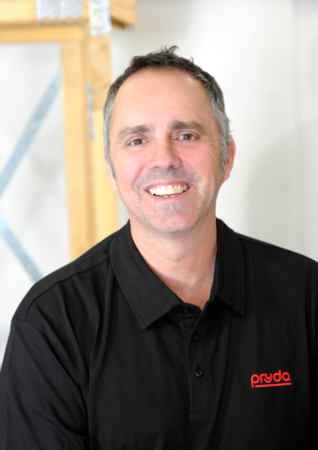 Posted on July 16, 2020