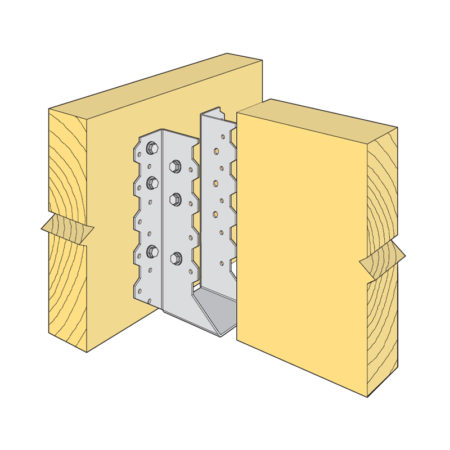 Framing brackets are strong and easy to install brackets for beam to beam connections.
Uses
Pryda Framing Brackets are suitable for fixing joist to joist, joist to beam, truss to truss, rafter to purlin, and hangers to joists.
Features
Cost effective, eliminating the need for costly on-site skilled labour to make special housing for joints etc.
Easily fixed into position with Pryda Timber Connector Nails, or self-drilling screws.
These hangers have wide flanges for ease of nailing and screwing.
The Pryda range of brackets provides for most common timber: sizes, glued laminated beams, I-joists and trusses.
Application
For application and design capacity information, refer to the Builders Guide.
Framing Brackets
| Product Code | Size | Suitable for Timber |
| --- | --- | --- |
| MPFB4590* | 45 x 76mm | 45 x 90 – 150mm |
| MPFB45120* | 45 x 110mm | 45 x 120 – 200mm |
| MPFB45180* | 45 x 176mm | 45 x 190 – 300m |
| MPFB5274 | 52 x 74mm | 52 x 90 – 150mm |
| MPFB52124* | 52 x 124mm | 52 x 120 – 200mm |
| MPFB52174 | 52 x 174mm | 52 x 190 – 300mm |
| FB94152* | 94 x 152mm | 2/45 x 190 – 290mm |
| FB65170 | 65 x 167mm | 65 x 190 – 290mm |
| FB72163 | 72 x 163mm | 90 x 195 – 300mm |
*Available in Stainless Steel