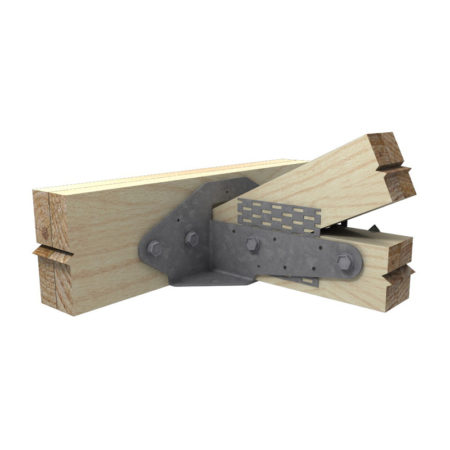 Bolted Steel Brackets for Heavy Roof Truss to Truss Connections
Uses
The long anti-rotation fin and heavy duty steel of Pryda Heavy Duty Truss Boots, combined with the inherent high stiffness of the carried truss, prevents twisting of the bottom chord of the girder. Consequently, anti-rotation bars are not necessary. Useful variations of this product have welded hinges to allow for any angle (TB80V).
Features
The TBHD75 and TBHD75/T Truss Boots have further benefits which include:
Special shape to reduce weight, and rounded edges for easier handling • Improved bearing capacity for supported truss.
A unique slot in the back of the boot to eliminate the need to cut 6-10mm from the heel of the supported truss.
Additional screw fixings into supported trusses to improve uplift capacity, if required.
Nail holes in the back flange to allow the boot to be easily located on the girder truss prior to drilling for bolts.
Holes in the base to allow screw to hold any incoming angled member at ceiling level (such as a hip truss) in position. These holes are countersunk to allow flush finish if required.
The twin-fin of TBHD75/T has been specially developed to enhance uplift capacities and meet the demands of girder to girder connections in cyclonic regions. Note: Screws are required in combination with bolts to achieve the desired uplift capacities.
Application
For application and design capacity information, refer to the Builders Guide.
Pryda Heavy Duty Truss Boots 4.0 mm – Hot Dipped Galvanised
| Product Code | Size |
| --- | --- |
| TBHD75 | 275 Flange – suit M16 bolts (central profile) |