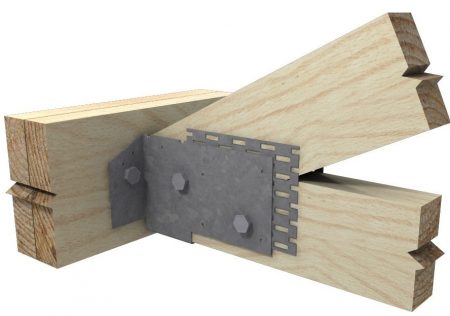 Multi-Fix Truss Boots are for Truss to Truss Connections with an option for fixing with bolts and screws.
Uses
Pryda Multi-Fix Truss Boots are used to connect roof trusses or other roof members to supporting "girder" trusses. "Multi-fix" means that these connectors can be fixed with bolts or screws, or bolts and screws together.
Features
Pryda Multi-Fix Truss Boots comprise of:
Joist Boots are used for End support of joists and beams, support of lightly loaded trusses from girder trusses.
Truss Boots are used for support of standard trusses.
See also Pryda Heavy Duty Truss Boots for alternate applications.
Application
For application and design capacity information, refer to the Builders Guide
Pryda Truss Boots 1.6mm
| Product Code | Size |
| --- | --- |
| TB45/16 | 190 Flange x 50mm – suit M16 bolts/No.12 screws |