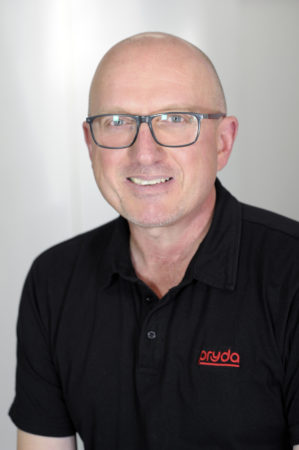 When Laurie walked through the doors of Pryda's head-office in Dandenong for the first time early this year, he was struck by the familiarity of the tools displayed in a storefront demo showcasing Pryda parent ITW's product range.
"It dawned on me that my home workshop is full of ITW tools," the avid woodworker said. "So, it's only right I'm working at Pryda."
Born and bred in Melbourne, Laurie heads up Pryda's team of soon-to-be 20 software developers, testers, and solutions architects, whose primary task is to modernise the core software platform for Pryda Build.
He said Pryda Build's role in the company's overall success had been an eyeopener. "Software, support, and training are integral to our fabricators' business. I didn't fully appreciate the intrinsic link before taking this job. That makes us a part manufacturer and part software development company, which is rare in this industry."
An entire career spent in software development, including stints in financial services, transport, and logistics, Laurie brings a philosophical view to the role of software in business. Explaining that software is simply a means to an end – which in the building industry mostly relates to optimisation – Pryda Build ensures fabricators answer the big questions, Laurie said.
"How can I design a truss that is the lightest weight, uses the least material, but is structurally sound and complies with all the standards? That's the holy grail," he said.
"Software holds the answers, but also provides designers with scope to add safety margins and navigate the subtleties of compliance and safety, innovation, and the economics of production."
Laurie Ellul
Software Development Manager ANZ
M: +61 437 041 209
E: lellul@prydaanz.com
Posted on February 15, 2021